TANTRIKA
TANTRIKA smells of ticklish excitement in the womb and heart space, weaving and connecting in infinity, of the moments right before intimacy filled with desire and yearning, and overlaid with notes of angelic innocence, holy rapture, and tree rootedness.
Buy Now
"Dark, sweet, and musky, it brings out the decadant creature goddess I know within myself. It is an indulgent reminder of the pleasures of the senses and the joys of coming home to the body."

Mars R.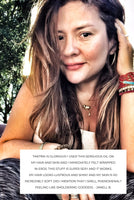 Alchemical Perfumery Gets Deep Into the Subconscious
Use TANTRIKA daily as a multipurpose oil for:

-To amplify your powers of sexual attraction
-Spellwork to anoint the body, shift the mind, oil your candles and baths
-For daily Abyangha massage
-Perfuming the hair and skin
-To smell like the seductive siren you are and attract powerful men and lovers
-Healing hair elixir oil for shiny hair and healthy scalp
-To do Gua Sha or massage with a jade roller
-Sensual massage and other intimacy play
-To charge your rituals and magic making
-Anti-aging daily facial oil
...and much more! She is a very versatile oil.
Shop Now
"I have met a shape-shifting essence named Tantrika and was
surprised how in the same bottle I could feel inspired within me both
sexy goddess prepared for evening ritual and also the sweet and soft
fairy filled with the lightness of wonder."

Gabie R.
"Wearing this amazing alchemical perfume for the first time today
and it is amazing. I'm glad it can also be used as haircare and
skincare because I can't get enough of it! It's magical."

Cindie C.